Hedonistic, explicitly political, and a bit witchy. Lana del Rey is one of the strongest voices of our era, evocative of what the millenial generation values as well as what ails them. She has made anthems about sniffing cocaine in Florida, waiting for one's daddy, and romanticising domestic violence. Always laced with an undertone of sadness but also, especially with her latest album Lust for Life, a solid will to continue living and a flirtatious frolicking with new-age religion.
While not exactly celebrated as a Best Dressed star, here are a few styling tips from Lana del Rey.
1. Playful footwear
It's good to invest in classics for designer shoe purchases, but a statement, one-of-a-kind piece is also a good option. These snakeskin slingbacks with crystal-studded strawberries from Gucci can be the cherry on top of a dressy outfit or a playful accessory to elevate a shirt-and-jeans look.
2. Cape Moment
An idea: what if we swap our trench coats with a dramatic wool cape to cover up in Spring?
3. Red Chuck Taylors with denim
Casual American Chic. Three words I never thought I would put together.
4. Blue Jeans, White Shirt
Just as she prescribed in her song Blue Jeans. A classic, of course, but take it to fashion girl territory by getting this white pleated Issey Miyake top tucked into a slightly flared, raw-hemmed Marques Almeida jeans.
4. The Bigger the Hoop
Wear hoop earrings the Lana Lolita way: big and low on the ear with a skinny red headband, hyperreal skin makeup but with spidery lashes.
5. Striped Straw Hat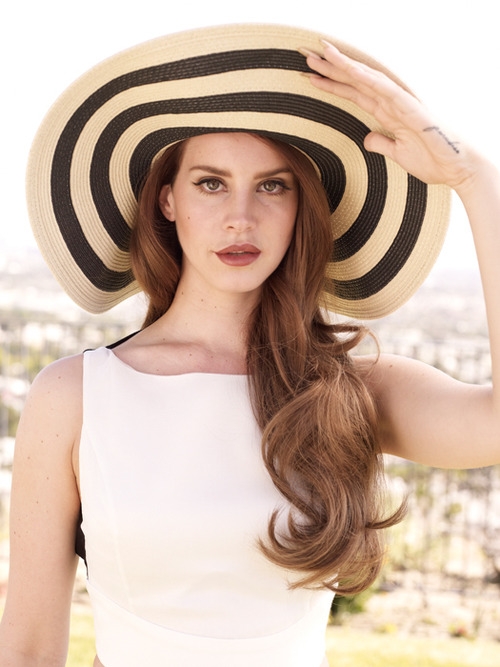 Possible collaboration between Jacquemus and Saint James? Pourquoi pas!