Spring is a traitor. It teases you day after day with really warm summery weather. Now confident that winter is definitely behind you, you peel off your layers and you wear a dress without stockings, you put all your fur things in a box under your bed. You think to yourself "life is great." Until that morning when you didn't bother to check the weather app, and walked out of your apartment in a camisole – only to find everyone else is wearing a trench coat and scarves.
Don't be caught in a bind! Here are a few jackets to keep the last waves of winter and the chilly summer nights at bay.
Seen everywhere on the runway, the safari jacket is a key item this season. Cop this Uniqlo U version in a sturdy bonded cotton material.
Western is also a strong trend mainly set by Raf Simons at Calvin Klein. It is a good excuse to look back at this gorgeous suede cape with fringes by Hedi Slimane for Saint Laurent. Trop chic!
This is your denim jacket who grew up and discovered it liked the finer things in life. Roomy, boxy, and sturdy, this Carl Jan Cruz jacket is what denim dreams are made of.
A satin shirt-jacket in a dreamy midnight blue color by Lemaire. Perfect for cool summer date nights. The strong tailored shoulder and cinched waist will highlight your silhouette.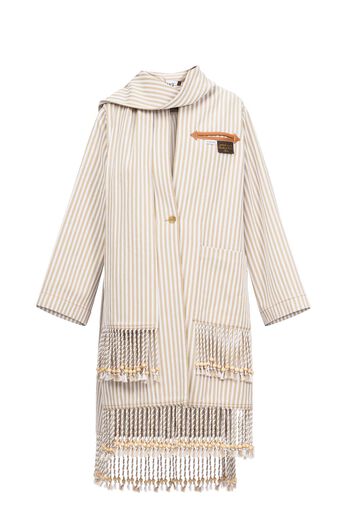 Stripes, beads, and cowrie shells. It can't get more summery than this Loewe long line jacket. It would go well paired with regular blue jeans and even a swimsuit.